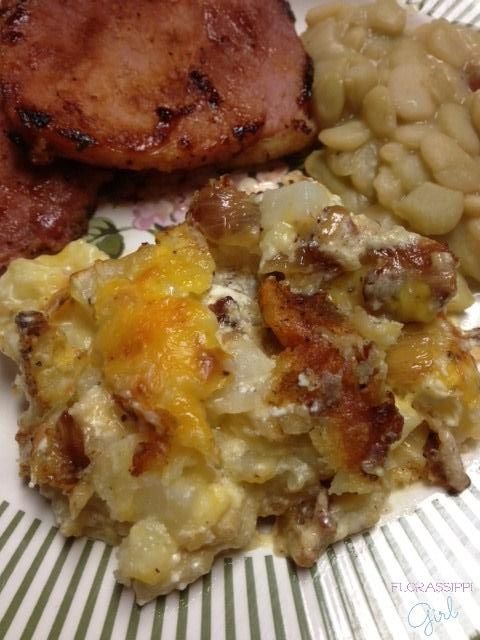 This dish is a perfect example of Southern cooking at it's finest! It pairs well with most Southern style dishes (like ham and lima beans), or have it as a stand alone breakfast casserole.
Let's get something straight... It is NOT for dieters.... unless you're feeling just a teensy bit naughty. ;) This dish does have a
ll of those yummy, satisfying, 'make you feel better when the world has turned against you' ingredients: bacon, potatoes, cheese, and butter; just to name a few. But hey, you're supposed to cheat every now and then, right?
Let's get started, shall we...
First round up everything you need. Here's the list...
Printable Recipe
Ingredients:
6 slices of Bacon, cut into small pieces
1 Onion, diced
1 Teaspoon Minced Garlic
1 - 2 pound bag frozen Southern Style Hashbrowns (that means cut into little squares, instead of shreds)
1 - 10.5 oz can of Cream of Chicken Soup
8 oz Sour Cream
2 Tablespoons Cream Cheese, softened
2 Tablespoons Butter, melted
1 1/2 cups Shredded Cheese (I used Colby-Jack)
Salt & Pepper to taste
Method:
Preheat oven to 350 degrees.
In a large bowl, Mix the frozen potatoes, soup, sour cream, and cream cheese. Season with salt and pepper. Remember these are potatoes, they need quite a bit of salt.
Meanwhile, in a cast iron pot, start the bacon pieces over medium-high heat. When the bacon has rendered some fat and started to brown, add the chopped onion. Season with salt and pepper. Continue to stir until onion is translucent and starting to brown, and the bacon is beginning to crisp. Add the minced garlic & continue to stir for just a minute more, as the garlic will burn easily. * If you stir it just right, you can make sure the sides of the pot get greased well, which will help you later on.
Pour this mixture into the bowl with the Potatoes. Mix it all together well. Pour half of the mixture back into the cast iron pot. Cover with about 1/3 of the cheese. Spoon the rest of the mixture on top and level it out with your spoon. Season it one more time with salt an pepper. Then pour your melted butter around on top. Sprinkle remaining cheese over top and bake covered at 350 degrees for 30 minutes. Uncover and put back into the oven for another 20 minutes. It should be bubbling. If cheese has not browned, you can turn on the broiler for a few minutes, until you reach the desired brownness.
To serve, use a metal spoon to scrape all that crispy hashbrown goodness from the sides of the pot. (This is where the greased pot makes it easier.) Your tummy will appreciate it.
Enjoy!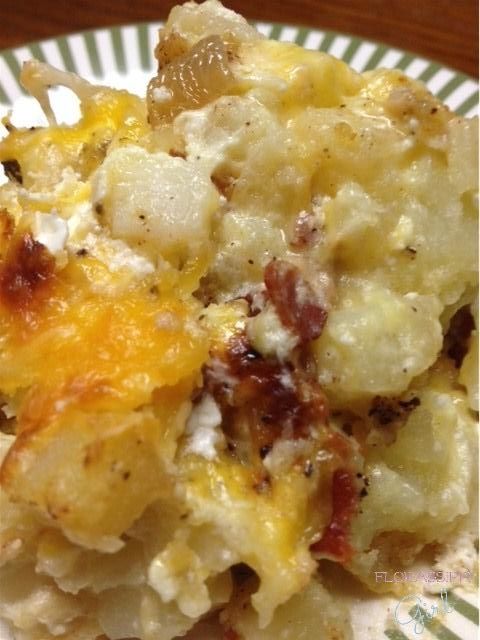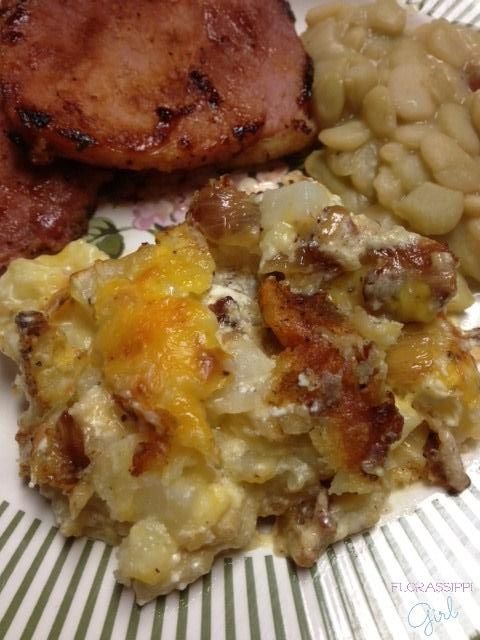 Related posts that might interest you: