Hello everyone! Well, it's been an interesting week. The kids and I now have the Flu... lovely. ~ And one of my Besties is moving clear across the country! Truthfully, I never get to see her anyway. She was already several states away. Thank goodness for the internet!
Anyway, that brings me to today's post: Southwest Chicken Burritos! You see my friend is moving to Arizona, and today happens to be the day she started her blog, 1 year ago. To celebrate, she is having a combination 1 year Blogiversary and Moving Party on Facebook. Come check it out: http://www.facebook.com/LoveBakesGoodCakes. We're doing Southwest style dishes at the party, and this should fit right in. -It's super easy to make too! ;)
* The party has now ended, but if you ever want to check out a really good blog, keep the address handy.*
Printable Recipe
Ingredients:
Filling
1 - 13 oz. can Chicken Breast, drained and broken up
1 - 15 oz. can Whole Corn, drained
1 - 15 oz. can Whole Black Beans, drained and rinsed
1 cup shredded Mexican Style Cheese
3 Tablespoons Sour Cream
1 Tablespoon Taco Seasoning
2 teaspoons Dry Ranch Seasoning (like Hidden Valley)

Wrap
9-10 Burrito Size Flour Tortillas

Topping/Side
Method:



Preheat oven to 375 degrees. In a large bowl combine all of the filling ingredients. Lay out a tortilla and scoop approximately 3-4 tablespoons of the mixture into the center of it. Carefully roll the bottom edge over the filling and slide it down with your fingers to make it tight. Then, fold in both sides (see picture), and continue to roll up. Place seam side down, on a baking sheet. Bake in preheated 375 degree oven for approximately 10-15 minutes, until golden, and the filling is hot. You may want to turn on the broiler for a minute or so o get the tops nice and browned.

~ This is where a Panini press would have come in handy, but I don't have one. :( *Hint, hint to the Hubby ;)
Oh well... Now that their all browned up, you can either serve them with a bowl of salsa for dipping, or just pour the salsa on top & add a dollop of sour cream.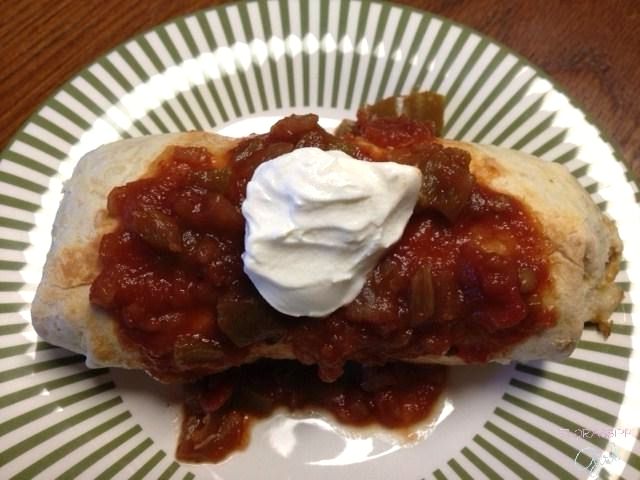 Yum!