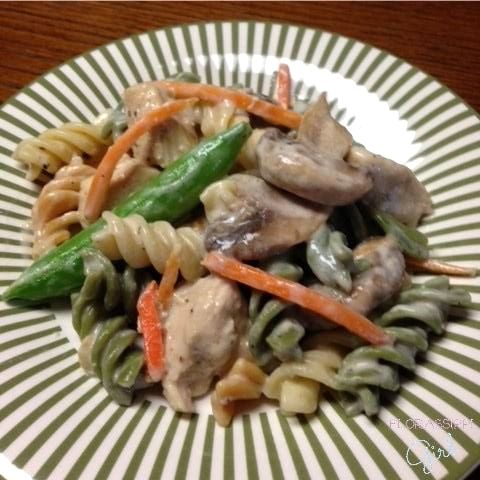 This is a healthy meal - that tastes great, and is quick and easy to throw together on those hectic nights. Best of all, your family will love it!
You'll notice I have used pre-cut produce for this one... It's a real time saver! If you're looking to be a bit more economical though, you can slice up the veggies yourself. Just have them cut up and ready to go before you begin.
I also chose to use the garden, or tri-colored, rotini for the pasta. (You've got to squeeze in those extra veggie points where ever you can.) If your not a fan, feel free to substitute your favorite pasta, instead.
Printable Recipe
Ingredients:
3 Large Chicken Breasts, cut into bite sized pieces

1 - 16 ounce package Garden Rotini (Tri-colored)

1 - 8 ounce package Sugar Snap Peas

1 - 8 ounce package Sliced Mushrooms (not canned)

1 - 10 ounce package Matchstick Carrots

2 cups (or 1 Jar) Alfredo Sauce

Garlic Salt

Onion Powder

Poultry Seasoning

Black Pepper

2 Tablespoons Vegetable Oil

1 teaspoon Salt (for the water)
Other Tasty Add-ins:
Whole Kernel Yellow Sweet Corn

Yellow Squash
Begin by bringing 6 cups of water to a boil. Add 1 teaspoon of salt to the water. Once it is boiling, add the garden rotini. Boil uncovered, until the pasta is cooked, about 15 minutes. Drain and set aside.
In a LARGE skillet add 2 tablespoons of vegetable oil and place on medium-high heat. Once the skillet has heated up a bit, add your chicken (that has been previously cut into bite sized pieces). Season the chicken with garlic salt, onion powder, poultry seasoning, and black pepper; according to your tastes. (I used about 1/2 teaspoon of each.) Cook, stirring occasionally, until the centers are no longer pink, between 6 and 10 minutes. Add the vegetables and cook until they are tender-crisp, about 5-7 minutes more. Stir in the cooked pasta and Alfredo Sauce to incorporate. Add additional seasoning if needed.