I made this beautiful Diaper Bouquet for my niece's baby shower this weekend.
I have made these in the past, and they are always a big hit!
They are really not that hard to make, so I decided to post a tutorial for those of you that might be interested in making them yourself.
First, you'll need to gather your supplies. This means you get to go shopping! Usually, I'm not a big shopper, but when it comes to baby stuff - look out. :o)
* Printable Supply / Shopping List
You'll need a 'vase'. I like to use those wire mesh waste baskets like you find at Dollar General. They come in a variety of colors, and you can choose the one that best suits the theme of the shower. No matter what you decide to use, you'll want something that you can see through, so all the goodies that you stuff inside can be seen.
Next, you'll want to get the goodies. I usually fill them with an assortment of baby supplies: baby shampoo, baby powder, lavender bedtime bath, baby wash, baby lotion, diaper rash ointment, wipes, etc. I also make sure to throw in something a bit more fun, like a rattle, a headband, or an outfit. Make it something personalized to the tastes of the Mommy-to-be.
For the top section, you'll need a large pack of Diapers (40 - 50 count). I like to get size 2. It's a size that few people give at baby showers, and it gives a little more time to enjoy the arrangement before they have to take it apart to get to the diapers.
You'll also need a pack of small clear hair elastics (about the diameter of a dime), a pack of
10 inch bamboo skewers, and a s

tyrofoam

ball (the circumference of your vase).
In colors that will match your theme, get 6 - 8 yards of tulle, assorted small silk flowers,
and
1 roll (3 - 5 yards) of wide wired ribbon.
Now the fun part - Assembly.
First, roll each diaper around a bamboo skewer and secure them with one of the clear elastics. Start at the bottom of the diaper and roll toward the waist. It is up to you whether you show the graphic on the waist or not. In this bouquet, I chose to have the added color. Roll them tightly, so that they don't try to slide down the skewer on you, later.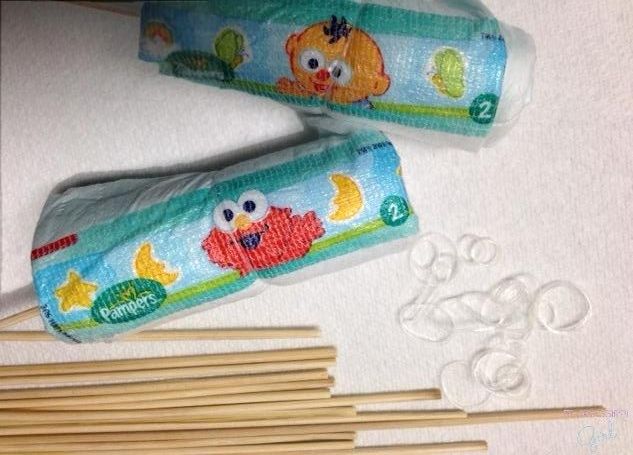 Next, cut the styrofoam ball in half. You will only be using half for this bouquet, but save the other half for another project or bouquet, later. Now, fill your 'vase'. Arrange your goodies in a circle so that the front of the items are facing out. Then, back-fill the center and add to the top. Make sure that you leave some room at the top (about 1 - 2 inches) for the
styrofoam half round to rest in.
Arrange your Diaper skewers as you would a bouquet of flowers. Place the half round on the 'vase' so you know where to stop the bottom line of diaper flowers. It may be difficult to push the skewers into the styrofoam while on the base. You can remove the half round and sit it on a table or workbench for added support. To make this part easier and to arrange them more uniformly, a lazy-susan would also be a good idea. It will look a little sparse at first,
but it will get better as we go on.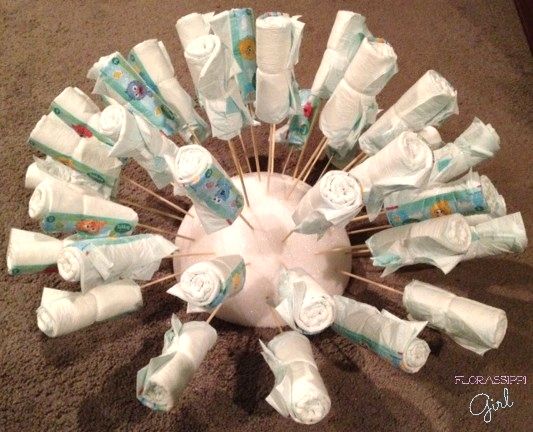 Now add the sprigs of silk flowers among the diapers to fill it in a bit.
Next, cut the tulle into strips about 6 inches wide and 18 inches long. There is no need to be exact. Wad one strip up at a time, and stuff it in-between the skewer stems close to the styrofoam. Keep doing this, until you have covered up the half round. Make it two layers deep for a fuller, more complete look. Then, place your bouquet top back onto the vase and finish it off with a bow made out of the wired ribbon. Make sure to attach the bow to the vase only.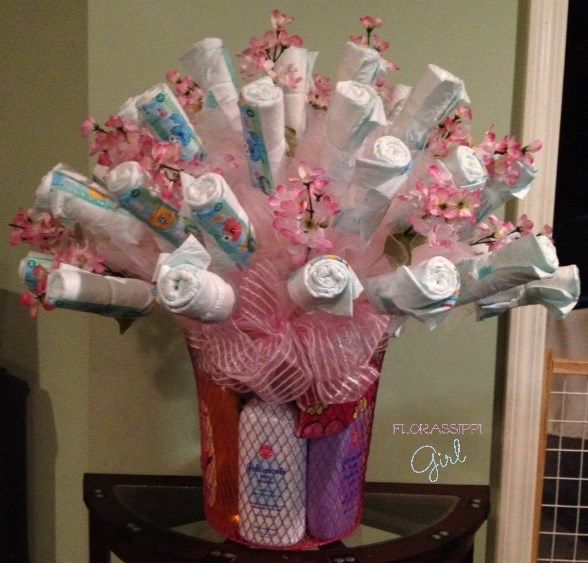 To transport your creation, simply lift off the top and sit the two separate halves carefully into your vehicle. Reassemble the top to the vase when you get there.
Everyone, especially the Mommy-to-be, will love it.