Now this ain't your ordinary tuna noodle casserole!
It is so creamy and flavorful!
Mix up the 'classic' ingredients a little bit, and what you have is a creation to be proud of!
Perfect for pot-lucks, family gatherings, or a hearty weeknight Supper!
Printable Recipe
You'll need:
8 oz (1/2 box) pasta (I used small shells)
Salt
Water for cooking pasta
~~~~~~~~~~~~~~~~~~~~~~~~~~~~~~~~~~~~~
2 - 5 oz cans Tuna, drained
1 cup Alfredo Sauce (jarred or homemade)
1 - 10.5 oz can Cream of Mushroom Soup
1 - 15 oz can Sweet Peas
1/2 teaspoon Onion Powder
1/2 teaspoon Garlic Salt
1/4 teaspoon Black Pepper
2 Tablespoons Butter (or margarine)
1 Tablespoon Mayonnaise
~~~~~~~~~~~~~~~~~~~~~~~~~~~~~~~~~~~~~~
15 Ritz Crackers, crumbled
Grated Parmesan Cheese
Method:
Preheat oven to 350 degrees. Prepare 2 quart baking dish by spreading approximately 2 tablespoons of the Alfredo sauce over the bottom. It should make a thin layer, but not leave any dry spots.
Parboil Pasta in lightly salted water. It should still be 'chewy'. It will finish cooking in the oven. Drain water and put pasta into a large bowl. To this bowl add the tuna, Alfredo sauce, mushroom soup, peas, onion, garlic, pepper, butter, and mayo. Mix to incorporate. Pour this mixture into your prepared baking dish. Use a spoon to level out the top as much as possible.
Sprinkle top of casserole with Ritz cracker crumbs. Then, sprinkle over that with grated Parmesan cheese.
Bake at 350 degrees for 30 minutes, until crackers have browned and the edges are starting to bubble.
Serves 4-6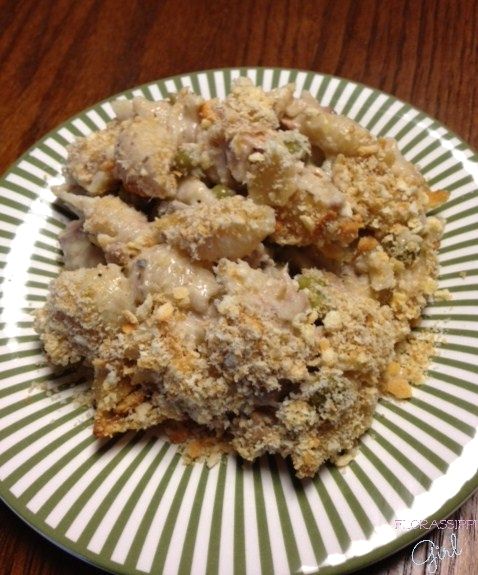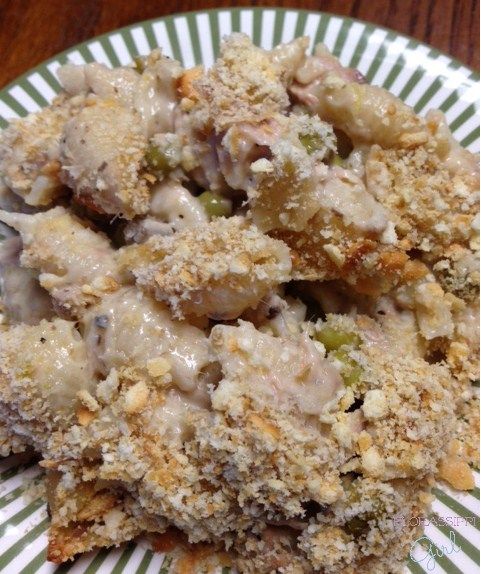 Enjoy!