This savory dish will soon become a family favorite! It has very few ingredients, but a lot of flavor. Best of all, it takes less than 30 minutes to make!
Printable Recipe
Ingredients:
2 cans Crescent Rolls

1 can Cream of Mushroom Soup

1 - 13 oz can Chicken Breast, drained

1 cup broccoli florets, separated into very small pieces

1 cup shredded cheddar cheese

1 tsp Garlic Salt (+/- to taste)

1 tsp Black Pepper (+/- to taste)

1-2 tsp Butter, melted

Method:
Preheat oven to 375 degrees. Lightly grease a 9 x 13 baking pan. Open one package of crescent rolls and line the bottom of the pan as one solid sheet. Pinch the seams together, if needed. Spread the cream of mushroom soup, evenly, over the crescent sheet. Drain the juice out of the can of chicken breast, and crumble the chicken over the soup. Then separate broccoli florets into smaller pieces and distribute evenly over the chicken. (see picture)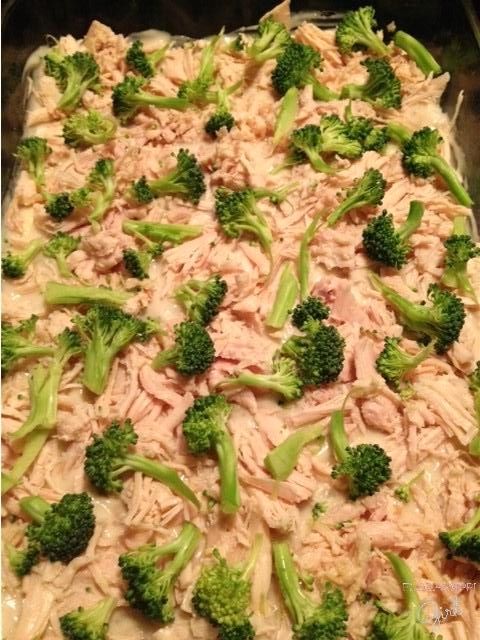 Cover with shredded cheddar cheese. Season with garlic salt and black pepper to taste. (I used about 1 teaspoon of each.) Lay the second roll of crescents on top, again as one solid sheet. Bake in the preheated 375 degree oven for 15-20 minutes, or until top is golden brown. Brush with melted butter.
Serves 4-6.
SOOOO GOOD!