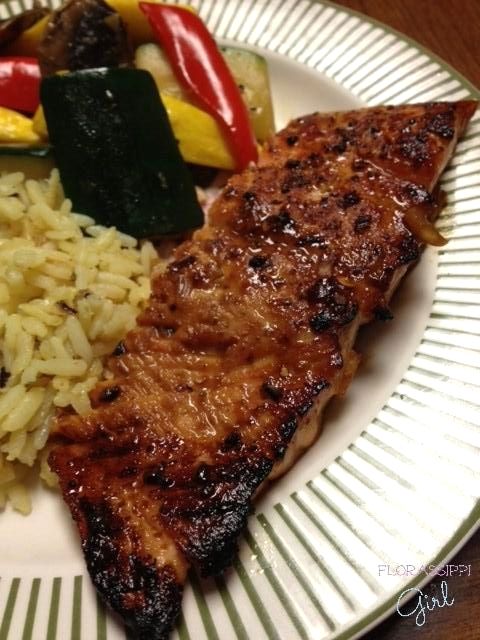 Wow, this dish was amazing! It came about from an overzealous trip to the grocery store (for which I must have been hungry). I came home with all kinds of food, and none of it remotely related to any recipe that I have been wanting to try. I bought tons of fruit (to balance the abundance of veggies that I am producing in the garden right now, I suppose?!) and a huge filet of Salmon. Seriously, this thing was 22 inches long and weighed almost 2 pounds! Now that may not seem like a lot to some of you, but for the next few days, I'm only cooking for 3... really just 2 1/2 since Little Miss barely eats. How, in the world, are we supposed to eat all of this food before it spoils?! Well, at least this recipe made a dent, albeit a small one. I might just have to break out the canning supplies soon. ;)
Now, before we get started, I realize that the marinade has A LOT of ingredients, but I promise, it's worth it. Each one lends to the flavor of the Salmon in its own unique way.
Salmon Marinade Ingredients:
2 Tbs Soy Sauce
1 Tbs Hoisin Sauce
1 Tbs Teriyaki Baste and Glaze
1 Tbs Sesame Oil

2 Tbs Pineapple Juice

1 Tbs Brown Sugar

1 Tbs Grill Mates Seafood Rub

2 tsp Sriracha Sauce

1/4 tsp Wasabi paste

1/2 tsp Minced Garlic

1/2 tsp Crushed Red Pepper Flakes

1/4 cup onion, finely chopped
Method:
Mix all ingredients together in a bowl, until incorporated. Place Salmon filet into a gallon sized, zip close bag. Pour marinade over the salmon. Remove as much air from the bag as possible and seal tightly. Tilt the bag around to make sure that the salmon is completely covered by the marinade. Let it sit for at least 30 minutes in the fridge.
Preheat broiler with pan inside, set to high. Lay a sheet of aluminum foil on the counter. Fold the edges up to make a rim on all four sides, and adjust the size to fit on top of the broiler pan. Remove your fish from the marinade bag and place in the foil 'dish', skin side down. (You may have to cut the filet and arrange the pieces so that they fit better.) Sprinkle with a bit more of the seafood rub, according to your tastes. You can also pour a little bit of the leftover marinade over the fish, if you like, but not too much. The sauce will burn easily.
Carefully remove broiler pan from the oven using a potholder, and place the foil dish with the prearranged fish on top. Broil on high for 2 minutes, then set broiler to low. Broil on low setting for an additional 5 - 8 minutes, depending on the thickness of your fish. Set the broiler back to high and continue cooking for about 2 minutes more, or until desired brownness is achieved.
You'll know the fish is done when it flakes easily.
Remove from the broiler, and let rest on the counter or stovetop for a few minutes before serving.
This is when I Stir-fried the veggies.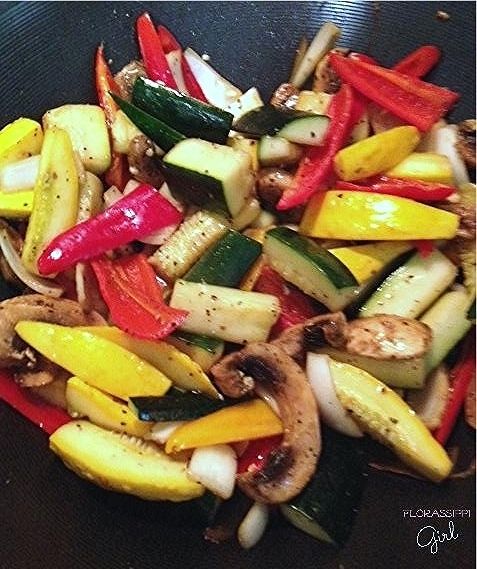 Stir-Fried Veggie Ingredients
1 medium Zuccini

2 medium Yellow Squash

1 Onion (or the rest of the one that you cut for the marinade)

1 cup Sliced Mushrooms

6 - 8 Mini Sweet Bell Peppers

2 Tbs Sesame Oil

2 Tbs Soy Sauce

Salt and Pepper to taste

Method
Cut up all the veggies into chunky bite sized pieces (see picture) and set aside. (I cut up the veggies while the salmon was marinading.) Preheat sesame oil in a Wok on high heat. Add all of the veggies at the same time and season with soy sauce, salt and pepper. Stir continuously for 6-8 minutes until the veggies are tender crisp. Serve immediately for best flavor.
I served the salmon and veggies with rice & it made a complete and satisfying meal. I hope your family enjoys it as much as mine did.