so the kids and I are making it to surprise him!
It is an adaptation from a recipe book handed down to me, by my mother, many years ago. As you can see by the photos, many, many years ago. This recipe is technically listed as a quick bread, but Hubby likes to call it a cake, since it is so moist.
First of all, you need to preheat the oven to 325 degrees. Then, the original recipe says to "lightly grease" a 9x5 inch loaf pan. Forget about that. We're going to do it up right! Take a stick of butter and open one end. Keep the other end wrapped so your hands don't get messy with the next part. Now, take that stick & smear it all over the bottom and sides of the pan. Make sure you get into those corners good!
Next, you're going to flip that stick of butter around and cut off 4 tablespoons worth. (See... leaving the wrapper on, helps with this part too.) Cut that into smaller pieces and put them into a microwave safe container. Nuke it for about 30 seconds, or until melted. Take it out of the microwave and leave it on the counter to cool off while we do the rest.
In a medium bowl, smash 3 large ripe bananas; it should make about 1 cup. Then, with your hand mixer, mix in 1 cup of sugar. Once that's done, mix in 1 egg. Remember that butter we melted? Add that in now, too. Then, using the spoon you smashed up the banana with, stir in 1 1/2 cup of self rising flour. Stir it just until all the flour is moistened. Now the good part... Chop up about 1/2 cup walnuts, or pecans, whichever you prefer, and stir those in.
Finally, pour the mixture into your pre-buttered loaf pan and bake at 325 degrees for 55-60 minutes, or until a toothpick inserted near the center comes out clean, and the top has browned nicely. You'll also notice that the center has cracked and edges of the bread are beginning to pull away from the sides of the pan.
When it looks like this, pull it out & set it on the counter to cool for a bit, before you cut it.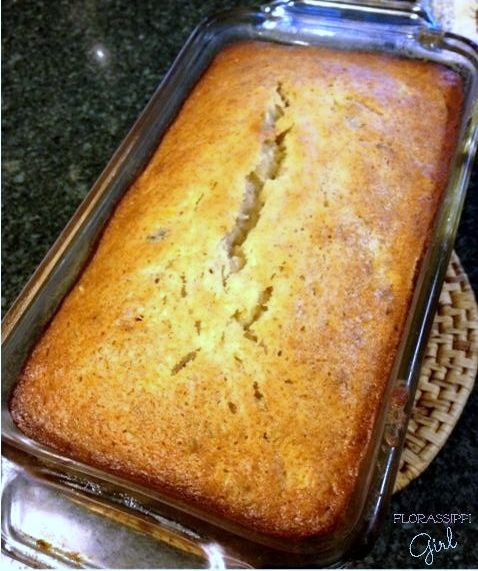 Here it is sliced up & ready to eat...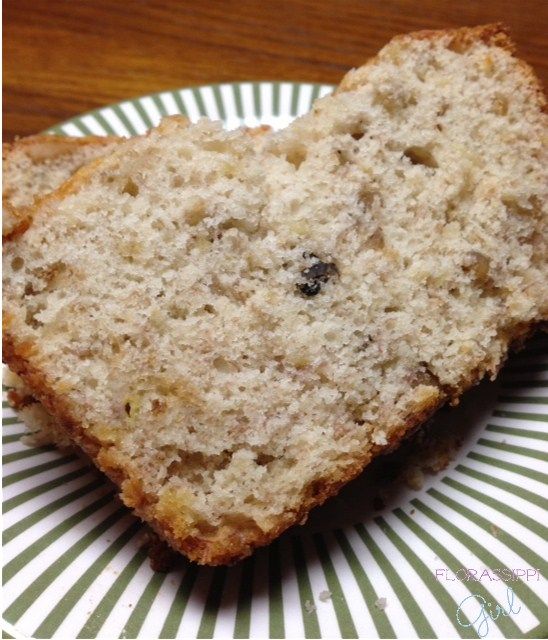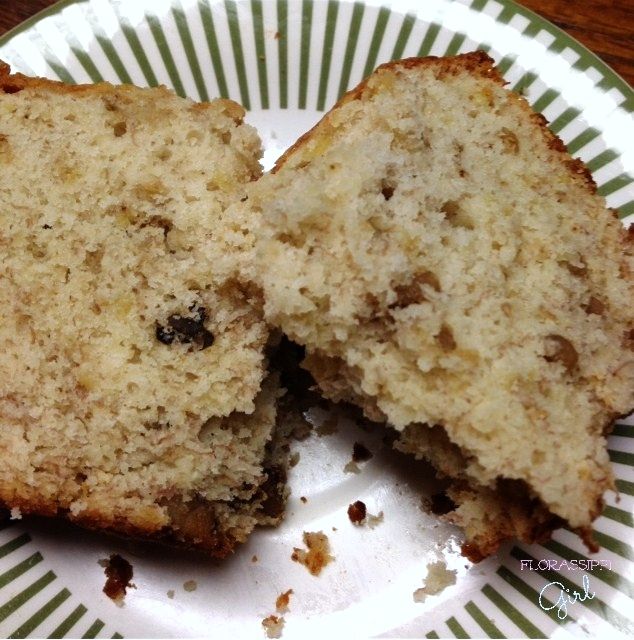 So Yummy!
Hubby's Favorite Banana-Nut Bread Cake
Recipe:
3 large ripe bananas

1 cup sugar

1 egg

4 tablespoons butter (+ more for buttering pan)

1 1/2 cup self rising flour

1/2 cup chopped walnuts (or pecans)
Preheat oven to 325 degrees. Butter a 9x5" loaf pan and set aside. Melt 4 tablespoons butter, then allow to cool.
In a medium bowl, mash bananas. You should have around 1 cup. Beat in sugar, then egg and butter. Stir in flour until just moistened, and then stir in the nuts.
Pour batter into prepared pan, and bake at 325 degrees for 55 to 60 minutes.

*** Hubby had a surprise for us, too! ***